Today I am going to talk about How Affiliate Marketing Works? | How to do Affiliate Marketing in Pakistan So sit back and start reading.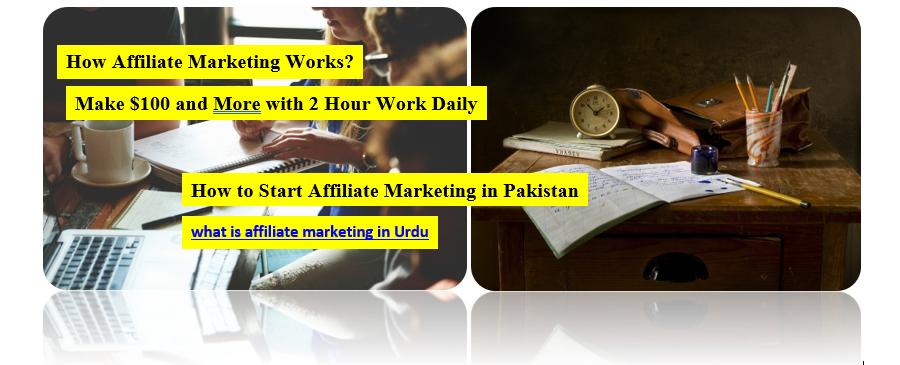 How Affiliate Marketing Works?
Affiliate links are sometimes only to promote a single product and sometimes for deals that can be offered by the Merchants. Affiliate Marketers further share these links among the internet surfers.
Social Media, for instance, Facebook Pages, Instagram Accounts, Email Marketing, Websites, Personal Blogs, and other social groups, forums where thousands of visitors on daily basis are some of the best approaches for product promotion.
When some of the visitors click on affiliate links the link will lead the visitors towards product landing pages having all the necessary information published by the product review or promotion content writers.
If someone buys a product from that affiliate links the affiliate marketer gets the commissions money (already fixed by the merchants who offer affiliate marketing tools) from Affiliate Programs.
After a brief introduction about affiliate marketing now let us go ahead with our main topic and find the answer to the question that how to start affiliate marketing in Pakistan.
How do I start affiliate marketing as a beginner?
First of all, you have to pay attention to the following steps/ point one by one. If you understand the entire step, you have no reason to avoid this passive income idea to make money online in Pakistan.
There are simple steps you will follow to start affiliate marketing as a beginner to make money online in Pakistan.
#1: Select Category for Affiliate Marketing.
To start Affiliate Marketing in Pakistan First of all, you have to find out the common interest between you and your targeted visitors. Targeted visitors means internet visitors who are searching for the same things you like to search for.
If you are interested in Electronic Devices, for example, Mobile Phones, Smart Watches, Wireless hands-free, etc. then you have to be with that person who is also interested in the same thing.
Make your Interest your Niche and your Category so it will be very easy for you to promote the products on regular basis.
When your interest will be your Niche or your job then you will be able to put honest efforts to write powerful content for product promotions.
The next step will provide you with all the information and techniques about your question so keep reading.
#2: Publish Articles with Affiliate Links?
We already know that if we are going to start making money by affiliate marketing, we have to promote content we write around the products we need to sell through Affiliate Marketing so, keeping in mind you have to select a platform for content sharing.
Following social portals, you may use them to promote affiliate links.
Facebook Instant Articles Sign up.

medium.com partner program.

Quora website.

BlogSpot Websites.

Personal Websites.
Content Writing is the most powerful way to make money with Affiliate Marketing.
Content Writer publishes product promotion content on blog or website and further shares on all the social networks and gets more visitors from different social media sources.
#3: Create Blog and Start Affiliate Marketing.
As per my suggestion to promote the affiliated products you have to create a blog and try to follow SEO Friendly Content Writing. Each Article should contain all the information of the selected product to seek the whole attention of readers. 
SEO Friendly articles will help you to get More Organic Search Every day from Search Engines. You may like to read this article, published on syedhassan online for better knowledge.
#4: Select Affiliate Marketing Program.
Now it's time to select affiliate marketing programs to make money online. There is a number of affiliate programs are available online to start with but you have to decide the right one for you.
If you have a little knowledge of affiliate marketing programs it will be quite easy to choose one. For a good understanding of Affiliate Programs, you have to know the different types of such programs there are some main types of Affiliate Programs are as under:-
Low Search Volume Affiliate Marketing Programs with High Payments.
High Search Volume Affiliate Marketing Programs with Low Payments.
Low Search Volume Affiliate Marketing Programs with High Payments:
Search Volume is a unit calculated by different search engines to generate the information about the keyword if a keyword fall in low search volume then it's mean that a little number of internet surfers are searching for it. These types of Affiliate Marketing Programs are only for targeted audions.
For Example, if we talk about any software specifically used for an organization then only those internet surfers will search about it who need to use it. the general public cannot write search for it.
Such types of programs will pay more commission money but if you will promote these types of affiliate links your sales will be slow because everyone is not going to buy these types of products.
High Search Volume Affiliate Marketing Programs with Low Payments:
It is better to get low commission money but regularly instead of getting high commission money after a long time with very hard work.
If an example we talk about a 3d Games or Mobile Phones or Webhoting websites then a very large number of internet surfers are searching about these topics on daily basis.
over the internet, on daily basis, a very large number of internet surfers are searching for different hard and soft items.
For example, Home appliances, Billing and POS Softwares for shops, Dress, Makeup Kits, Electronic Gadgets, Mobile phones, etc for daily use through online markets.
As per my suggestion, you should use the High Search Volume Affiliate Marketing Programs at the beginners level to make good money online.