PEPRIS NEW APPLICATION | PEPRIS ONLINE REGISTRATION
Many of my readers are asking that how to proceed with  PEPRIS NEW APPLICATION and how to ONLINE REGISTRATION for private school so this is the simple and serious way for online registration pepris new application with the pepris punjab gov pk online portal developed by the PITB with the collaboration and instructions by the Ministry of Education.
CONCLUSION:
After reading this article you will be able to Register Your Private School with pepris Punjab gov pk and get the fee challan for your registered school. This article will also help you to create account on PEPRIS.
میں یقین سے کہہ سکتا ہوں کہ اس تحریر کو پڑھنے کے بعد آپ اس قابل ہو جائیں گے کہ آپ اپنا پروئیوہٹ سکول خود رجسٹر کر سکیں گے۔ اس تحریر کو پڑھنے کے بعد آپ سیکھ جائیں گے کہ کس طرح سے آپ برقی لائسنس حاصل کرنے کے لیے چلان بانا سکتے ہیں اور کس طرح سے اپنے پرائیویٹ تعلیمی ادارے کی درخواست آن لائن کر سکتے ہیں۔
I am also going to explain the main requirement of pepris online registration application so you should not stuck at any stage during the pepris new application registration process.
PEPRIS Online Registration Mechanism for Private Schools۔
پیپریس آنلائن پر پرائیویٹ سکول کو رجسٹر کرنے کے لیے اس تحریر میں آپ کو انتہائی آسان طریقہ کار سے آگاہ کیا جائے گا ۔ اس طریقہ کار پر عمل کر کے آپ بہت آسانی کے ساتھ اپنے پرائیوٹ کو گورنمنٹ کے ساتھ رجسٹر کروا کر برقی لائسنس حاصل کر سکتے ہیں۔
This article is to guide you with help of simple steps for pepris new application online registration. By following all the steps you will register you private school with the Government of the Punjab and got Private School E-License.
یاد رہے پرائیویٹ تعلیمی اداروں کی رجسٹریشن کے لیے بنایا جانے والا PEPRIS ONLINE REGISTRAION سسٹم آپ سب کی آسانی اور برق رفتاری سے رجسٹریشن کو مکمل کرنے کے لیے ہے۔ اس کے علاوہ ماضی میں درپیش مشکلات اور سرکاری دفاتر سے وابسطہ آپ کی شکایات کو ختم کرنے کے لیے یہ برقی نظام تخلیق دیا گیا ہے۔
SETP 1 | CREATE PEPRIS ONLINE REGISTRATION ACCOUNT
For registration with PEPRIS for "New Application" visit the Official Website of PEPRIS PUNJAB GOV PK https://pepris.punjab.gov.pk/ and you will land on the official page of PEPRIS for New Registration as shown in following Image.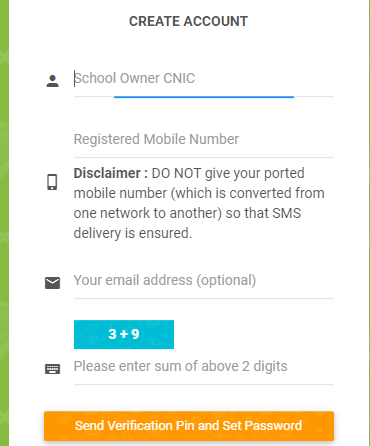 Click on Register School Button given on the pepris website on top right corner. After that fill the registration form to create new account in pepris e license for private schools. You may use this link for pepris school owner account registration https://pepris.punjab.gov.pk/sign-up
پیپریس کی ویب سائٹ پر نئی درخواست دینے کے لیے سب سے پہلے آپ کو آنر شپ کا اکائونٹ بنانا ہو گا اس اکائونٹ کو بنانے کے لیے پیپرس کی ویب سائٹ کو کھولیں آپ کو دائیں ہاتھ کی جانب سب سے اوپر ایک بٹن نظر آئے گا جس پر Register School (for Education Provider) لکھا ہو گا کو کلک کریں۔
اس کو کلک کرنے سے آپ نئی رجسٹریشن کے فارم پر پہنچ جائیں گے جہاں پر آپ کو شناختی کارڈ نمبر، مبائل نمبر جو کہ آپ کے نام پر رجسٹر ہو اور ایک درست ای میل ایڈرس جو آپ کے استعمال میں رہتا ہو کا اندراج کرنا ہو گا۔ یاد رہے شناختی کارڈ نمبر اس شخص کا تحریر کریں جو سکول کا مالک ہو اور مبائل نمبر بھی وہی دیں جو کسی دوسرے نیٹ ورک پر کنورٹ نہ ہو اور مالک کا اپنا اور اپنے نام پر ہو۔
اس کے علاوہ ای میل ایڈریس بھی وہی دیں جو مالک کے استعمال میں رہے کیونکہ اگر ان باتوں کا دھیان نہ رکھا گیا تو پہلی بار رجسٹریشن کے بعد ہر سال آپ کو اس اکائونٹ کی ضرورت پڑے گی اگر آپ کے پاس ای میل نہ ہوا یا مبائل نمبر درست نہ ہوا تو آپ اپنے پاسورڈ کو تبدیل نہیں کر سکیں گے جو آپ کے لیے پرایشانی کا باعث بن سکتا ہے۔
Owner CNIC Number.

Registered Mobile number (Do not Use Converted or Ported Mobile Phone Number).

Valid Email Address.
Click on "Send Verification Pin And Set Password" by clicking this button system will send you a pin code on you mobile number you provided in form. Check your mobile phone for SMS from 8070 you will get the pin code in 8070 sms.
شناختی کارڈ وغیرہ کی معلومات درست درج کرنے کے بعد نیچے دیئے گئے بٹن پر کلک کریں گی جس پر کلک کرنے سے آپ کو تصدیقی پن کوڈ آپ کے دئے گئے نمبر پر ارسال کر دیا جائے گا ساتھ ہی ای میل پر بھی ارسال کر دیا جائے گا۔ اب آپ رجسٹریشن کی ویرفیکیشن والے حصہ پر پہنچ چکے ہیں۔
Enter this pin code in account verification form and define your password use simple words as password for example your age, Your Name, Your School name so you will never forget the password you set for pepris Punjab gov pk login account.
اپنے کوائف کی تصدیق کے لیے مبائل پر موصول ہونے والے پن کوڈ کو کمپیوٹر میں ظاہو ہرنے واے ویری فیکشن والے فارم میں پن نمبر والی جگہ تحریر کریں اور اس کے بعد اپنی اکائونٹ کے لیے پاسورڈ تجویز کریں۔ پاسورڈ آسان اور ایسا رکھیں جو آپ کو یاد رہ سکے آپ اپنے نام کے ساتھ فون نمبر وغیرہ یا تاریخ پیدائش وغیرہ کا اندراج بطور پاسورڈ کر سکتے ہیں۔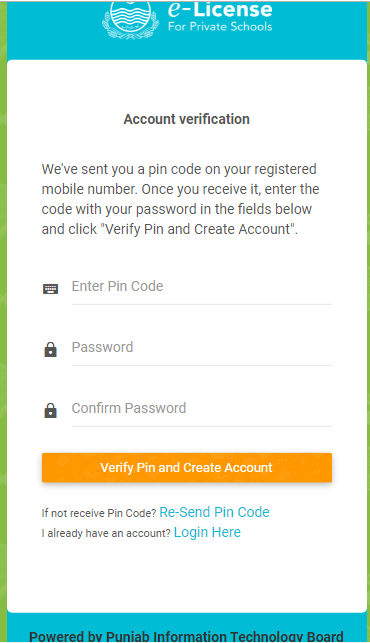 Now you are all set for login. Your pepris school owner account is created now and for next step you just have to login in pepris school owner account to proceed further with registration form and other documentations. Use this link to access login account page https://pepris.punjab.gov.pk/login
اب آپ کامیابی کے ساتھ
PEPRIS Owner Account
 تخلیق کر چکے ہیں۔ اور آپ لاگن کرنے کے لیے تیار ہیں۔ لاگن فارم میں شناختی کارڈ کا اندراج کریں جو کہ آپ نے رجسٹریشن کے وقت اس فارم میں تحریر کیا تھا۔ اس کے بعد نیچے والے خانے میں وہ پاسورڈ تحریر کریں جو آپ نے ویری فیکیشن والے فارم میں اپنی رجسٹریشن کے لیے تجویز کیا تھا۔
STEP 2 | PEPRIS PUNJAB GOV PK LOGIN
After login in to PEPRIS PUNJAB LOGIN you have different options if you already have a register school (Manual Registration before launching of PEPRIS PUNJAB E Licensing) you will find the details in your login account but if you don't have any registered school before then you are ready to start New Private School Registration in System.
لاگن کرنے بعد آپ کے پاس ڈیش بورڈ میں مختلف اقسام کی آپشنز آئیں گیں اگر آپ کے نام سے اس سے قبل کوئی سکول رجسٹر ہے تو اس کی تفصیلات بھی درخواست والے سیشن میں آپ کو نظر آئیں گی۔ اس سے قبل رجسٹریشن سے مراد اس برقی نظام سے پہلے ہونے والی رجسٹرٹیشن ہے۔ یاد رہے اس نظام کے جاری ہونے سے پہلے تمام اضلاع میں موجود تمام پرائیویٹ سکولز کا ڈیٹا اس نظام میں درج کیا گیا تھا۔
نئی درخواست کھولنے کے لیے کیریٹ نیو اپلیکیشن والے بٹن پر کلک کرنے سے آپ نئی رجسٹریشن کے لیے فارم والے صفحہ پر پہنچ جائیں گے۔ اس فارم کی 5 مختلف حصے ہیں
سکول کی بنیادی معلومات کا حصہ
 مالکان سے رابطوں والا حصہ
 عمارت کے متعلق اور صفائی ستھرائی کے متعلق جاری کردا اسناد کا حصہ
سکول میں بچوں اور اساتذہ کی تعداد کا حصہ
 برقی پتہ کے متعلقہ معلومات کا حصہ
Click on "Create New Application" this button will lead you to the registration form for your new private school registration.
There are 5 different sections for registration forms you have to and also upload the required documents with the help of upload button in relevant sections.
Basic School Profile

Contact Information

Building Fitness/Hygenic Information

Classwise Enrollment

School Geolocation
Each section contains different columns to get the information from PEPRIS School Owner for Registration Process. PEPRIS School Owners will also upload the relevant documents such as Building Fitness Certificate and Hygenic Certificate (not expired) issued by the concern departments.
For details about above mentioned 5 sections for New Private School Registration Application please read this https://syedhassan.online/private-schools-online-registration-punjab/ this article will help you to get the detailed information about each column in every section of registration form.
نئے سکول کی رجسٹریشن کے فارم میں موجود تمام حصوں کی تفصیلات جاننے کے لیے آپ اس برقی ربط پر کلک کر کے مزید تفصیلات جان سکتے ہیں۔ اس برقی لنک میں ہر سیکشن میں موجود تمام کالمز کے بارے میں معلومات تحریر کی گئی ہیں۔ فارم کو مکمل اور درست طور پر فل کرنے کے لیے جاری کردہ سرٹیفیکیٹس اپلوڈ کرنا انتہائی ضروری ہیں۔ یاد رہے یہ سرٹیفیکیس نئے جاری شدہ ہوں اور تنسیخ کی تاریخ رہتی ہو۔
PEPRIS School Owner Application۔
For Section 5 that is School Geo Location school owners will have to get the location of school building from google map or have to install the PEPRIS School Owners Andriod Application https://play.google.com/store/apps/details?id=pk.pitb.gov.pepris to get the location longitude and latitude.
اسی فارم کے پانچویں حصہ میں موجود برقی لوکیشن یعنی برقی پتہ کے حوالے سے آپ کو علم ہونا چاہیے کہ اس پتہ کو برقی نقشہ پر لگانے کے لیے آپ کو دو طرح کے نمبر درکار ہوں گے جن کو لینگی ٹیوٹ اور لیٹی ٹیوٹ کہا جاتا ہے۔
ان کے حصول کے لیے یہ تو آپ گوگل نقشہ کی مدد سے اپنے تعلیمی اداری کی لوکیشن تلاش کر کے یہ دو نمبر حاصل کر لیں یا پھر مندرجہ بالا ربط سے  اپنے اینڈرائڈ مبائل فون میں انسٹال کر لیں اور وہاں سے لوکیشن کو آن کر کے سکول میں کھڑے ہو کر کورڈینیٹس خرید لیں۔
STEP 3 | PEPRIS PUNJAB GOV PK LOGIN
Hope so you followed all the above mentioned instruction regarding Private School Registration with PEPRIS Online Registration now this is the last step to complete all the registration process.
After you submit you school registration application the PEPRIS login will redirect you to main dashboard and you will see the application status in a table format on your dashboard.
Each Application contain some options for example Renewal Status, Verification of School Application, Mark Duplicate, E-License, Mark as closed and also generate fee challan these option will differ according to your application status.
امید کرتا ہوں کہ آپ نے اس سے قبل جو کچھ بتایا اسے اچھے سے کیا ہو گا آپ کے سکول کی رجسٹریشن کے لیے یہ آخری عمل ہے جس کو کرنے سے آپ کا سکول رجسٹر ہو جائے گا۔ رجسٹریشن کی درخواست کے آخر میں موجود بٹن پر کلک کرنے سے آپ کی درخواست جمع ہو جائے گی اور آپ کو درخواست والے فارم سے واپس ڈیش بورڈ کی طرف ری ڈائریکٹ کر دیا جائے گا۔
اس ڈیش بورڈ پر آپ کی جمع کردہ درخواست کی معلومات کا ٹیبل ترتیب دیا جا چکا ہو گا جس میں آپ کے سکول کی رجسٹریشن کی درخواست کی معلومات کے علاوہ آخر میں کچھ بٹن موجود ہوں گے جو درخواست کے سٹیٹس کے حساب سے تدیل ہوتے ہیں۔
اگر نئی درخواست ہے تو آپ نے چلان تیار کرنے والے بٹن پر کلک کر کے چلان بنا لینا ہے اور بنک میں جمع کروانا ہے
چلام جمع کروانے کے بعد آپ کی درخواست پر چلان بنانے والے بٹن کی بجائے ویریفیکیشن کا بٹن ہوگا۔ چالان جمع کروانے کے بعد آپ چلان کی کاپی اور دیگر سرٹیفیکیٹ کے ساتھ متعلقہ چیف ایگزیکٹو آفیسر (ڈسٹرکٹ ایجوکیشن اتھارٹی) کے دفتر تشریف لے جائیں وہاں یہ سب کاغذات جمع کروانے کے بعد آپ کے سکول کی درخواست کو منظور کر لیا جائے گا۔
درخواست کی منظوری کے بعد آپ کے ڈیش بورڈ میں آپ کے سکول کے لیے ای لائسنس کا بٹن آ جائے گا جس پر کلک کرنے سے آپ اپنے تعلیمی ادارے کے لیے لائسنس کو پرنٹ کر سکتے ہیں۔
Verification of School Application: This option is to re verify you application if you want to make changes then you have to lock the application for further process.
Mark Duplicate: If you already have an application for same school then you will avail this option to remove one.
Generate Fee Challan & E-License: with this option you will be able to print you private school elicense from your dashboard but before you print you e-license for your private school make sure that you had paid the fee by generating the challan and submitted in NBP.
Mark as Closed: If your school is closed due to any reason and you are not going to renew it further you will click on this button to change the active status to closed.
Hope you like this if you found this article informative and helpful do share with others. I tried to answer your questions related to the Private School Registration Online on PEPRIS Login specifically that howto register private school online with pepris and how to get E-License for your private school with the help of PEPRIS PUNJAB GOV PK.
Keep visiting for more information. Have a blessed life Thnkx.