private schools online registration punjab with PEPRIS (Private Education Provider Registration & Information System) for E-Licensing of Private Schools of the Punjab.
WHAT IS PEPRIS (Private Schools Online Registration)۔
PEPRIS is an abbreviation of Private Education Provider Registration & Information System (Private Schools Online Registration Punjab) introduced by the PITB (Punjab Information Technology Board), Lahore.
Introduce E-License for private schools registered in 36 districts of the Punjab, Pakistan.
SECOND MOST IMPORTANT DECISION OF PUNJAB GOVERNMENT.
It is already in our knowledge that SIS (School Information System) which is developed for public schools were implemented in public schools of punjab. With SIS (Schools Information System ) all the data of public school teachers were computerized and used for fare and on merit E-Transfer.
Recently 7th E-transfer round is successfully completed in 36 district of the Punjab Pakistan.
The second most important decision is PEPRIS of this government to make all the registration process of the private schools computerized.
This decision will help to reduce the complicated documentary work, moreover, this decision will also reflect the correct figure of private schools with correct earnings and validations.
In first phase of implementation of PEPRIS, the Government Offices of the Punjab was directed to upload all the data of already registered Private schools.
After completion of said task every owner will find all the information online through Private Schools Online Database and proceed further with registration of their private schools online.
BENEFITS OF THE PERPIS (Private Schools Online Registration Punjab).
The Data of schools will be available online.
E-License (Electronic License) is available for all the private schools with an expiry dates.
Owners are allowed to get fee challan for newly registered private schools and also for renewal of expired e-license.
A number of enrolled students is now available online to analyze the education rate.
It will be easier to make decisions in view of total number of educational institutions.
Large and Collective data will always be available with this system so the government can make future decisions to improve the private sector of education.
Private Schools Registration authorities will be able to list up all the data in different categories with some clicks through the online availability of data.
This system will also help to get a detailed report for pending registration and also for registered schools.
Options are available in PEPRIS Login Account for different users.
With this system, anyone is allowed to register their private institutions from home.
Already registered owners are allowed to submit applications for new schools or, for a branch of already existing schools.
Registered owners are allowed to add more owners of schools or to change the ownership of schools.
Users/ Owners will inform automatically through an email message and text messages about the validation and expiry of the e-license.
Geo-Location of Schools is available in the system so finding the exact location of the private institutions is very easy.
THREE-STAGE STRATEGIES OF PEPRIS (PRIVATE EDUCATION PROVIDER REGISTRATION & INFORMATION SYSTEM).
Stage 1: DEAs (District Education Authorities), these authorities were directed to upload all the data of private schools, already available in the offices of DEAs. This process is almost completed.
Stage 2: Schools Owners are allowed to access the private schools database, provided to the owners through PEPRIS Android Application and also through PEPRIS Website so they will make individual login accounts for their schools.
Stage 3: The PEPRIS Database will be available for parents so they will be able to find good-rated and nearby private schools for better education.
HOW TO REGISTER WITH PEPRIS (PRIVATE EDUCATION PROVIDER REGISTRATION & INFORMATION SYSTEM).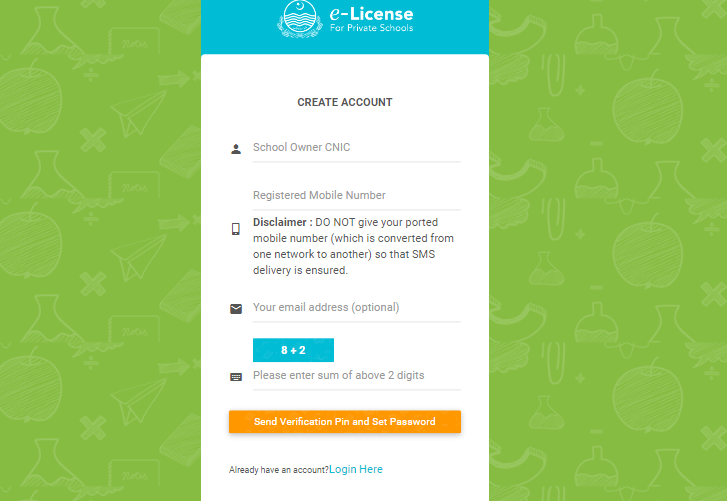 First of All, a person who already running a private school will find his or her registered school in Open Private Schools Database through this PEPRIS WEB LINK.
School Owners can register for online PEPRIS login accounts through this link https://pepris.punjab.gov.pk/sign-up. After filling a simple form with
Owner CNIC Number.
Registered Mobile number (Do not Use Converted or Ported Mobile Phone Numbers).
valid Email Address.
After filling this form with the above information, the owner will get a verification code on the email and mobile number also which was entered during PEPRIS SIGNUP Process to proceed further with an online account of the owner.
After verification of Pin Code individual Owner account will create and now the owner is allowed to login into the PEPRIS Punjab gov pk and login on this link: PEPRIS Login Link.
In the Admin Account of Owner, different options are available some are as under:
Rise Objection.
Verify School Data.
Check Status.
Add New Owner.
Remove Owner.
With all these options owners is allowed to submit requests to authorities so authorities may approve the request under rule and law.
REGISTER NEW SCHOOL WITH PEPRIS PUNJAB GOV PK.
Under the "New Registration" option of PEPRIS there is a form which must be filled by the owner with under mentioned sections moreover, All the star marked filed are mandatory.
Note: The under mentioned fields are taken from original Registration form of PEPRIS (PRIVATE EDUCATION PROVIDER REGISTRATION & INFORMATION SYSTEM) through pepris Punjab gov pk.
SECTION-1: "BASIC SCHOOL PROFILE":
District *
Tehsil *
School Name *
Nature of School *
Nature of Management*
School Level *
School Gender *
Year Established*
School building status *
Postal Address *
Postal City *
SECTION-2 "CONTACT INFORMATION":
Name of Owner *
Owner CNIC *
Owner Mobile Number (03xxxxxxxxx) *
Alternate Phone Number
Principal/Administrator Name *
Principal/Administrator Designation/Job-Title *
Principal/Administrator CNIC *
Principal/Administrator Phone Number *
Principal/Administrator Email *
Contact Person Name *
Contact Person Designation/Job-Title *
Designation or Job Title
Contact Person CNIC *
Enter CNIC
Contact Person Phone Number *
Enter Phone number
Contact Person Email *

SECTION-3 "BUILDING FITNESS/HYGENIC INFORMATION":
Building Fitness Certificate Number *
Building Fitness Certificate Issuance Date *
Building Fitness Certificate Valid Till *
Upload Building Certificate *
Hygenic Certificate Number *
Hygenic Certificate Issuance Date *
Hygenic Certificate Valid Till *
Hygenic Certificate Issued By *
Upload Hygenic Certificate *
SECTION-4 "CLASS WISE ENROLLMENT":
All level Cases enrollment as per each class.
SECTION-5 "SCHOOL STATS":
Total Enrollment *
Total Teaching Staff *
Male Staff
Female Staff
Total Teaching Staff
Total Non Teaching Staff *
SECTION-6 "SCHOOL GEOLOCATION":
Mark location of your school.
To precisely mark your school location, please download the School Owner App on the Play Store or via the following link. Make sure your GPS is turned on Note: You should be at your school location while marking your location through the School Owner App
Click Here to Download School Owner App
At the end of this introductory and guideline article i am quit sure that now you are able to register your school with PEPRIS.
I have taken all the information from the main login account of PEPRIS because i am from SED and we are dealing with private schools registration and issues related to the automatic system and e-license.
Read Other Related Links: