Applying for C Leave is more difficult for the Public School Teacher who is not aware with Internet and Information Technology. This is make you irritate that a facility that is totally developed for you but you are not able to avail or use this application.
رخصت اتفاقیہ کی درخواست آنلائن کروانے کے لیے عصر حاضر کی ضرورتوں کو مد نظر رکھتے ہوئے پنجاب انفارمیشن ٹیکنالوجی بورڈ کی معاونت کے ساتھ منسٹری آف ایجوکیشن نے اساتذہ کرام کے سرکاری کاموں کے لیے آن لائن پورٹل تیار کیا جس کی بدولت اساتذہ کرام گھر بیٹھے یا تعلیمی ادارے میں بیٹھے بیٹھے اپنے مبائل فون کے ذریعہ سے ٹرانسفر ، ریٹائرمنٹ، رخصت اتفاقیہ کے حصول کے لیے درخواست آنلائن کر سکتے ہیں۔
I decided that an article may be published on syedhassan online in the combination of both languages (Urdu and English) to answer the question that How to Apply for C-Leave on sedhr gov punjab pk? so, if you want to apply c leave on sedhr punjab pk you have to login in sedhr punjab portal "Sedhr Punjab Gov Pk – Punjab Portal" and fill the required columns to apply for c leave the rest of the article is the step by step guide to explain and to teach the simple way to apply c leave.
اگر آپ کو ایس ای ڈی ایچ آر پر اتفاقیہ رخصت کی درخواست آن لان کرنے کا طریقہ نہیں پتہ تو آپ اس تحریر کو ضرور پڑھیں۔
Apply C-Leave on sedhr gov punjab pk
Step: 1. First of all you have to open the website sedhr.punjab.gov.pk login of click on this link -> sedhr.punjab.gov.pk
.پہلا کام: سب سے پہلے آپ نے ایس ای ڈی ایچ آر کی ویب سائٹ کو کھولنا ہے 
Step: 2. Enter your CNIC number in the Username and Password for login into the system.
.دوسرا کام: آپ نے اپنے شناختی کارڈ نمبر کا اندراج یوزر نیم والے خانے میں کرنا ہے اور پاسورڈ جو آپ کو فراہم کیا گیا وہ پاسورڈ والے خانے میں تحریر کرنا ہے
Step: 3. After login, you will find a list of links on your left side.
تیسرا کام: ایس ای ڈی ایچ آر میں کامیابی کے ساتھ لاگ ان کرنے کے بعد آپ کے بائیں جانب آپ کو مختلف اقسام کے  کلک ایبل یعنی بٹن ملیں گے جن میں لیو ریکویسٹ کا بٹن بھی شامل ہے۔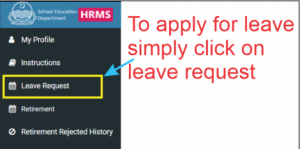 Step: 4. After clicking on "Leave Request" from the left side menu you will see the Leave Rules 1981 (Only related to the C-Leave) press the "Agree" button to proceed further.
چوتھا کام: دکھائے گئے مینیو میں سے لیو ریکوسٹ والے بٹن پر کلک کرنے کے ایس ای ڈی ایچ آر کی سائٹ آپ کو لیو رولز کے بارے اگاہی دے گا۔ آپ متفق یعنی اگری کا بٹن دبا دیں اور استحقاقیہ رخصت کی درخواست آنلائن کرنے کے لیے اگلے مرحلہ میں داخل ہو جائیں۔
Step: 5. Now we are ready to apply for C-Leave click on the "Apply Leave" button. Fill the following columns and click of "Process" button so SEDHR GOV PUNJAB PK will record and online your c leave application.
پانچواں کام: اب آپ اتفاقیہ رخصت کی درخواست آن لائن کرنے کے لیے تیار ہیں۔ آپ اپلائے لیو کے بٹن پر کلک کریں اور مندرجہ ذیل کالمز کو فل کریں
Type of Leave (Select Casual Leave).
Leave Required From (Click and Select the Date from which you are going to start your c leave).
TO (Clik and Select the Last Date, the last date of your leave).
No.of Days (this will automatically be calculated by the System).
Purpose of Leave (Enter the Reason for Leave "Urgent Work", "Sik Leave", "Death in Family", "Personal Affairs" etc.).
I will Report Back on (Select the Date when you will be present in your school after your leave period).
With the help of the above-mentioned steps, your C Leave Application will be submitted and waiting for approval from your immediate Officers in Punjab Public School.
After applying the C Leave with the help of the Punjab Protal sedhr punjab gov leave you will get a Text Message on your registered and enrolled mobile number. You will also be able to see the status of your application under the same c leave request menu.
اگر آپ نے میری اس تحریر میں درج بالا قدم یعنی سٹپس کر لیے ہیں تو پھر اس کا مطلب ہے کہ آپ ایس ای ڈی ایچ آر پنجاب جی او وی پی کے پر اتفاقیہ رخصت کی درخواست اون لائن کر چکے ہیں۔ اب یہ درخواست آپ کے    افسران بالا کی جانب سے انتظار میں ہے۔
رخصت اتفاقیہ کی درخواست آن لائن کرنے کے بعد آپ کے مبائل نمبر  یعنی اس نمبر پر جو کہ ایس آئی ایس پورٹل میں آپ نے درج کروا رکھا ہے پر مسج آتا ہے۔ آپ اپنی درخواست کا سٹیٹس بھی دیکھ سکتے ہیں سٹیٹس دیکھنے کے لیے درخواست سبمٹ کرنے کے بعد کا مرحلہ درج ذیل ہے۔
Sedhr.punjab.gov.pk stats
To view the status of your c leave the application you have to see the automatic created table/ performa related to your c leave application below the apply leave and the casual leaves section as mentioned in under pasted image.

درج بالا تصویر میں موجود ٹیبل کو غور سے دیکھیں یہاں آپ کو بہت ساری معلومات نظر آئیں گی۔ ان میں ایک کالم ہے جس کا نام سٹیٹس ہے اس میں آپ کی اپلیکشن کا سٹیٹس ظاہو ہر رہا ہے۔ جب آپ درخواست آن لائن کریں گے تو اس وقت سٹیٹس ویٹنگ کا ہو گا اس کے بعد جب درخواست منظور کر لی جائے گی تو یہ سٹیٹس تبدیل ہو جائے گا  اس طرح آپ اپنی درخواست پر ہونے والی کاروائی کے بارے میں جان سکتے ہیں۔
sedhr.punjab.gov.pk stats login
There is a number of users for SEDHR.PUNJAB.PUNJAB.GOV with username and password to proceed with c leave applications of public school teachers.
SED HR LOGIN account for CEO DEA (Chief Executive Officer – District Education Authority) of every District of Punjab.
SED HR LOGIN Account for DEOs (District Education Officers) Elementary Education (Male and Female) Secondary Education (Male and Female schools High and Higher)
SED HR LOGIN Accounts for Dy. DEOs (Deputy District Education officers) Male and Female for each Tehsil of the District
SED HR LOGIN Accounts for AEOs (Assistant Education Officers) Male and Female for each Deputy District Education Officers at Tehsil Level.
ایس ای ڈی ایچ آر میں تمام افسران بالا کے لیے اور تمام ٹیچرز کے لیے لاگ ان کرنے کا آپشن موجود ہے۔ اگر ایک ٹیچر رخصت کے لیے اپلائے کرتا ہے تو اس کی درخواست اس کے سکول کے ہیڈ ماسٹر کے ایس ای ڈی ایچ آر اکائونٹ میں انظار پر رہتی ہے جب تک کہ وہ ہیڈ اپنے اکائونٹ سے لاگ ان کر کے اس کو منظور یا خارج نہیں کرتا۔
اگر سکول کا ہیڈ درخواست آن لائن کرتا ہے تو اس کے متعلقہ ڈی ای او یا ڈپٹی ڈی ای او یا آے ای او تک یہ درخواست پہنچ جاتی ہے اور وہ اپنے لاگ ان اکائونٹ کے ذریعہ سے درخواست پر کاروائی عمل میں لاتا ہے۔
Each user will login to proceed further with C Leave Application. If a Primary School Teacher or Elementry or Secondary School Teacher will apply for C Leave application the Head of his or her school will approve or reject the application of the applicant by its own SED HR Login account.
If the head of the Institution will apply for C Leave on SEDHR Punjab then the relevant District Education officer or AEO will approve or reject his or her application.
امید کرتا ہوں کہ یہ تحریر آپ کے لیے فائدہ مندثابت ہو گی ذیل میں ایس ای ڈی ایچ آر کے متعلق سید حسن آنلائن پر موجود دیگر تحریروں کے لنک بھی دیئے گئے ہیں جو کہ آپ کہ لیے انتہائی فائدہ مند ہوں گی۔
https://syedhassan.online/step-by-step-guide-to-apply-e-retirement/