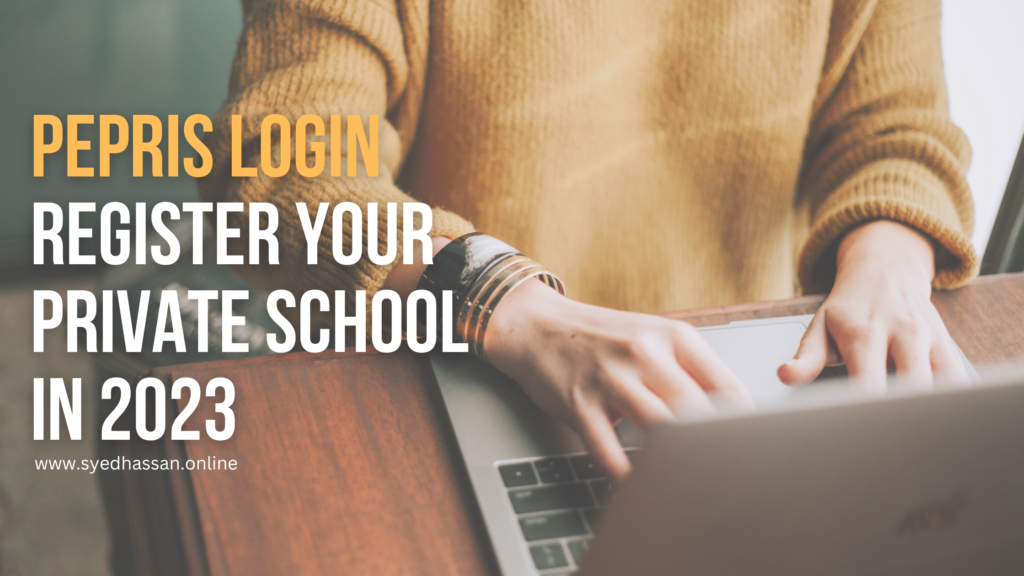 Pepris Login | Register Your Private School In 2023. Register Your Private School, Renew Private School Registration 2023. This article will help you to understand the registration process for your private schools in 2022.
All the information and steps in this article are observed during the registration of Private schools through the Pepris login account of school owners.
Private School Online Registration Punjab 2023 @pepris.punjab.gov.pk
Pepris Punjab Gov Pk started online registration of private schools in Punjab for this year 2023 so you just have to take some simple steps for your new private school registration.
If you have your private school already working with old registration you may fill out the required form and get direct access to your online pepris account for updating your already registered school.
New data will be updated in pepris database for your already registered school then you will have access to renew your private school registration certificate.

PEPRIS Punjab Gov Pk
Visit the official website of PEPRIS – PEPRIS PUNJAB GOV PK.
Click on Registration Button for Private school Registration online 2023.
Fill out the Private School Registration Form by entering the Owner CNIC, Mobile Number and Email Address.
Click on the "Login Button" and enter the login information for login into the PEPRIS Online Registration and Renewal Portal 2023.
Click "Create a New Application" and fill out the form.
Submit the form and your new school will be successfully registered.
Verify your School Profile.
Generate the E-Challan PSID for New School Registration Fee and print the PEPRIS School Registration Challan Fee.
Submit the challan form to the National Bank of Pakistan or pay the private school registration fee through E Pay or Easypaisa mobile application.
Get the approval from the concerned CEO DEA Office (Chief Executive Officer – Education) office.
Print E-License for your private school through PPEPRIS.
You may also read the more detailed step by step guide for PEPRIS NEW APPLICATION | PEPRIS ONLINE REGISTRATION
What is Pepris and how does it work | (Private Schools Online Registration)۔
PEPRIS is an abbreviation of Private Education Provider Registration & Information System (Private Schools Online Registration Punjab) introduced by the PITB (Punjab Information Technology Board), Lahore. Every Private School must have a pepris login account for quick registration and renewal of private school e-license.
Pepris Registration Application 2023
Many of my blog readers are asking how to proceed with PEPRIS NEW APPLICATION and how to ONLINE REGISTRATION for private schools so this is the simple and severe way for online registration pepris new application with the pepris Punjab gov pk online portal developed by the PITB with the collaboration and instructions by the Ministry of Education.
Pepris Online Registration 2023 Mechanism for Private Schools
Register Your Private School In 2022 and onward you have a very simple mechanism so you must Register Your Private School In 2022-2023 and get the license for your private educational institution within no time. This mechanism is based on a pepris website pepris online portal with a registered username and password to proceed further with a private school registration application online.
Let me tell you about pepris online registration mechanism for private schools. To access the online school registration system first of all you have to visit the official website of pepris Punjab gov pk login by clicking this link –> https://pepris.punjab.gov.pk/ this link will lead you to the specific website developed by the Punjab Information Technology Board (PITB LAHORE).
This website collects all the private school data at the level of District Education Authorities across the 36 districts of Punjab. After that school owners will have to visit the pepris Punjab gov pk to create a login account based on the data of the school if already registered otherwise you have the access to register branch new school.
PEPRIS Login | PEPRIS Online Registration
For registration with PEPRIS for "New Application" visit the Official Website of PEPRIS PUNJAB GOV PK https://pepris.punjab.gov.pk/ and you will land on the official page of PEPRIS for New Registration as shown in the following image.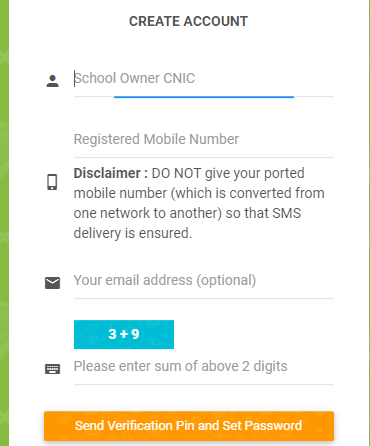 Pepris Punjab Gov Pk Create Account
Click on Register School Button given on the pepris website in the top right corner. After that fill out the registration form to create a new account in pepris e license for private schools.
You may use this link for pepris school owner account registration https://pepris.punjab.gov.pk/sign to finalize the private school registration 2022 you have to enter the following information in the registration form.
Owner CNIC Number.
Registered Mobile number (Do not Use Converted or Ported Mobile Phone Numbers).
Valid Email Address.
Click on "Send Verification Pin And Set Password" by clicking this button system will send you a pin code on you mobile number you provided in the form. Check your mobile phone for SMS from 8070 you will get the pin code in 8070 SMS.
After successful registration, the pepris portal will redirect you to the login page. Now you have to enter the login information you had created in the previous registration form.
PEPRIS Punjab Gov Pk School Owners
After successful registration for your new application for private school, the system will redirect you to the login page and provide the login information you had created during the signup step.
The PEPRIS also sends all the required information automatically to the email address you provided for registration. Click on "Create New Application" this button will lead you to the registration form for your new private school registration.
There are 5 different sections for registration forms you have to and also upload the required documents with the help of the upload button in the relevant sections.
Basic School Profile
Contact Information
Building Fitness/Hygenic Information
Classwise Enrollment
School Geolocation
For detail on above mentioned, 5 sections for the New Private School Registration Application please read this PEPRIS | E-license for private schools Online Registration Punjab۔ this article will help you to get the detailed information about each column in every section of the registration form.
Pepris Punjab Gov Pk Complaint
To register your complaints with Pepris Punjab Gov Pk Complaint center you have to fill out the pepris complaint form. This form will ask you to provide the information about you and your complaint the following fields must be filled in to register your complaint.
The pepris authority will take quick action regarding your registered complaints to resolve the issues related to the registration of new private schools or the issues related to the already registered school. The following information will be required for pepris complaint registration:-
Complainant Type (School Owner/ Parent or Guardian)
Comments or details about your complaint
Full Name of complainant
Valid CNIC Number
Valid Mobile Number
Valid Email Address
Pepris Helpline Number
Pepris Punjab has its own helpline number for support and other information regarding the registration of private schools. This helpline is also used to get the information for Renewal for Already Registered School. If you are facing troubles on the pepris website for example pepris registration form issues or login problems.
Hotline: 042-111-11-20-20
Support: pepris@punjab.gov.pk
Read Other Important Links:
#pepris | #privateshools | #PITB | #SEDPunjab | #Education