Sedhr Punjab Gov Pk – Punjab Portal prepared new modules (E-Retirement, C Leave, Online Seniority List, Online Pension Orders, and Online ACRs) to facilitated Punjab School Teachers of Punjab. For Introduction with SED HR PUNJAB Please Visit -> Introduction to SEDHR.PUNJAB.GOV.PK.
It is time to upgrade to our public school teachers before the Re-Opening of Public Schools in Punjab after the meeting of NCOC regarding Covid-19 "Karona Virus". The Punjab School Education Department (Monitoring Wing) officially issued a letter Vide No. DD(M)/HRMIS/2019 Dated 28th July 2021 with the subject: E-Retirement Notification, E-Leave, E-PERs, and E-Seniority List on School Information System SIS (SIS LOGIN).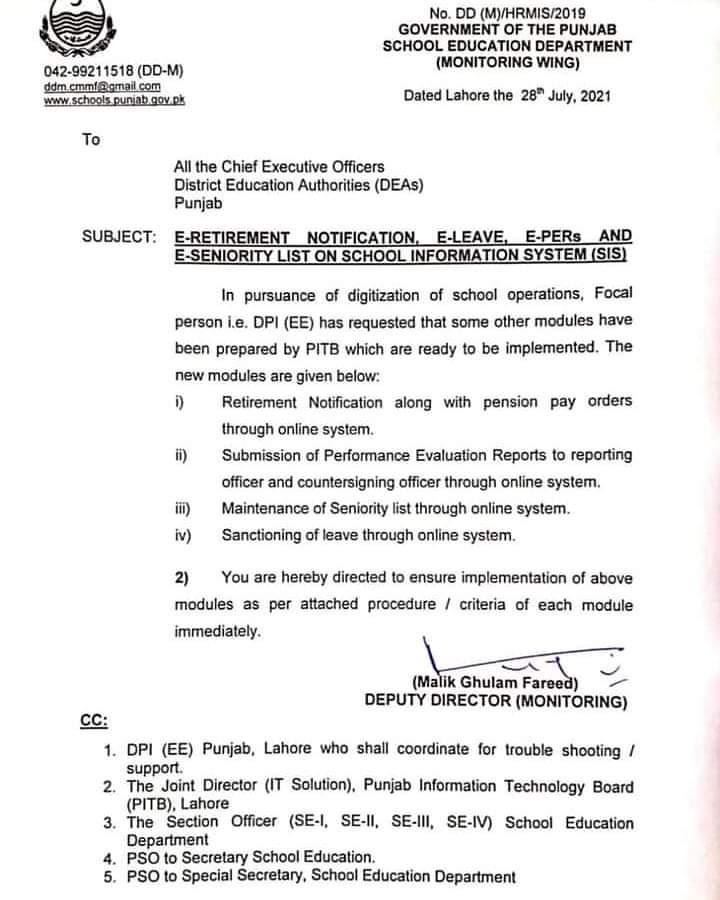 "In Pursuance of Digitization of School Operations, Focal Person i.e. DPI (EE) has requested that some other modules have been prepared by PITB which are ready to be implemented…

Malik Ghulam Fareed: Deputy Director (Monitoring), SED Punjab Monitoring Wing Lahore.
Public School Teachers are Searcing for answers to the following question related to the Sedhr Punjab Gov Pk – Punjab Portal, SED HR Online E-Retirement, C Leave Onlne so I decided to answer these questions.
SEDHR Government of Punjab:
SEDHR stands for School Education Department Human Resource developed by the PITB under the project of SED PUNJAB LAHORE, PAKISTAN. The real name of this online system is SED-HRIMS Punjab Pakistan.
The New Modules Prepared by the PITB in SEDHR Punjab:
All the Chief Executive Officers, District Education Authorities (DEAs) Punjab were directed to ensure implementation of the following modules prepared by the PITB in the SEDHR Punjab (SED HRIMS ONLINE PORTAL) as per the attached procedure/ criteria of each module immediately.
E-Retirement Notification Module (Retirement Notification Along with Pension Pay Order, Online Pension System)
E-Leave Module (C Leave Online)
E-PERs Module (Online Submission of Performance Evaluation Report to reporting officer and countersigning officer through online SED HR Punjab Login system)
E-Seniority Module (Maintenance of Seniority List through Online SED HR Login, Seniority of Punjab Public School Teacher, SSTs, ESTs, PSTs)
Step By Step Guide for SED HR Punjab Online Retirement & Pension Pay Orders:-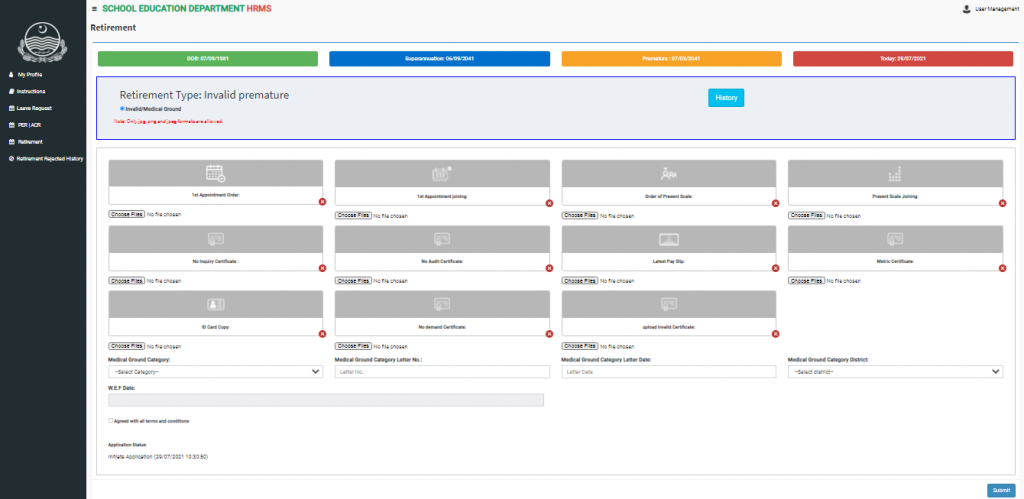 Step : 1. Teacher will Login with valid Credential. User Name and Password
Step : 2. Teacher will Visit Retirement Tab for Apply click on retirement request.
Step : 3. Teacher will attach all documents mentioned and submit. After submission right side showed application status.
Step : 4. Head of the Instituation will login with valid Credential, Personal User Name and Password
Step : 5. Head will forwarded the Retirement Application of Teacher Concerd for further approval.
Step : 5. CEO Office will Login with Valid Credential. CEO DEA Username and Password for SED HR Punjab.
Step : 6. CEO DEAs of the Punjab will further approve or forwared (UPTO BS-16 CEOs & Above BS-16 Seceretary SED Punjab).
Step : 7. E-Retirement Notification will be issued by the SED HR Punjab Online System for further circulation.
Read This Article for more information about E-RETIREMENT | How to apply online Retirement from sedhr.punjab.gov.pk
Step By Step Guide for C-Leave Online SED HR Punjab:-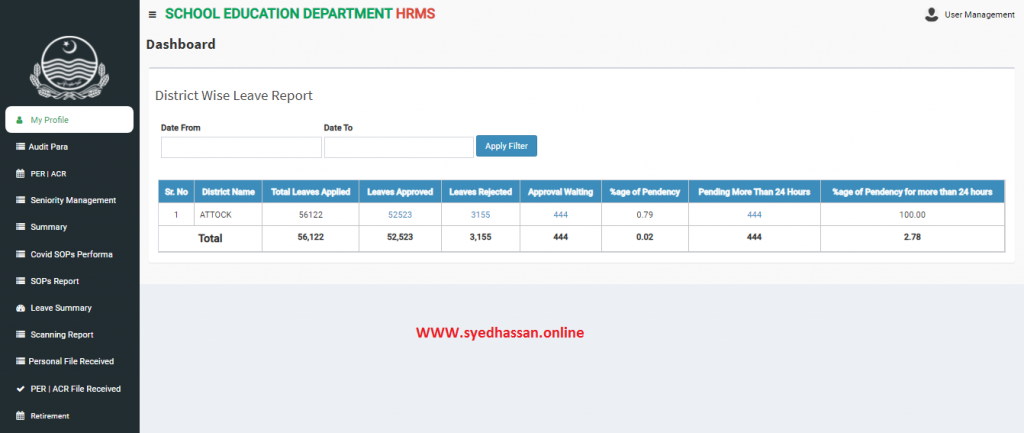 Step: 1. After login with valid credentials teacher go to "Leave Request" to for apply leave. (To apply for leave simply. click on leave request)
Step: 2. Government rule regarding casual leaves will show up.
Step : 3. Leave list will show up, which depicts No. of total available, total availed & remaining leaves. Click on apply leave to request a leave.
Step: 4. Fill in all mandatory fields and proceed.
Step: 5. To check leave status a line listing appears with details including "leave status"
Download PDF Guide How to Apply for C-Leave Online
Step By Step Guide for E-PERs/ Online ACRs SED HR Punjab:-

Online Submission of PERs/ ACRs by Head of the Institutions.
Step: 1. Head Teacher will login in SED HR Punjab Portel with his or her personal valid User Name and Password
Step: 2. Click on P.E.R/ ACR button (Lift Side in Menu) and further click on Add button to add PER/ ACRs.
Step : 3. After filling in all the relevant fields click on SUBMIT.
Step: 4. Head Teacher is also allowed to check the status of P.E.R/ACR if PERs/ ACRs are in waiting for approval by DEOs with comments.
PERs/ ACRs by District Education Officer (SE, W-EE, M-EE).
Step : 1. After submission of PERs/ ACRs from Head of the institutions DEOs will open the SED HR Punjab and login with valid personal User Name & Password.
Step : 2. DEOs will click on reporting person and he or she will be able to get all the lists of initiated PERs/ ACRs .
Step : 3. To Check the Initial Submissions from the relevant Public School Teachers. For more details DEOs will click on SHOW DETAILS button.
Step : 4. To add evaluation of teacher click on add evaluation. Fill all form and submit.
Download PDF Guide How to initiate PERs/ ACRs